We are excited to announce a new Snuff album which will be released on June 9th.
"Come And Have A Go If You Think You're Rachmaninoff" is a completely acoustic record and as such a bit of a departure from the norm.
Solo acoustic gigs are something Duncan has dabbled with for a while. Occasional radio show sessions have also been in an acoustic format.
Acoustic Live Show & Live Stream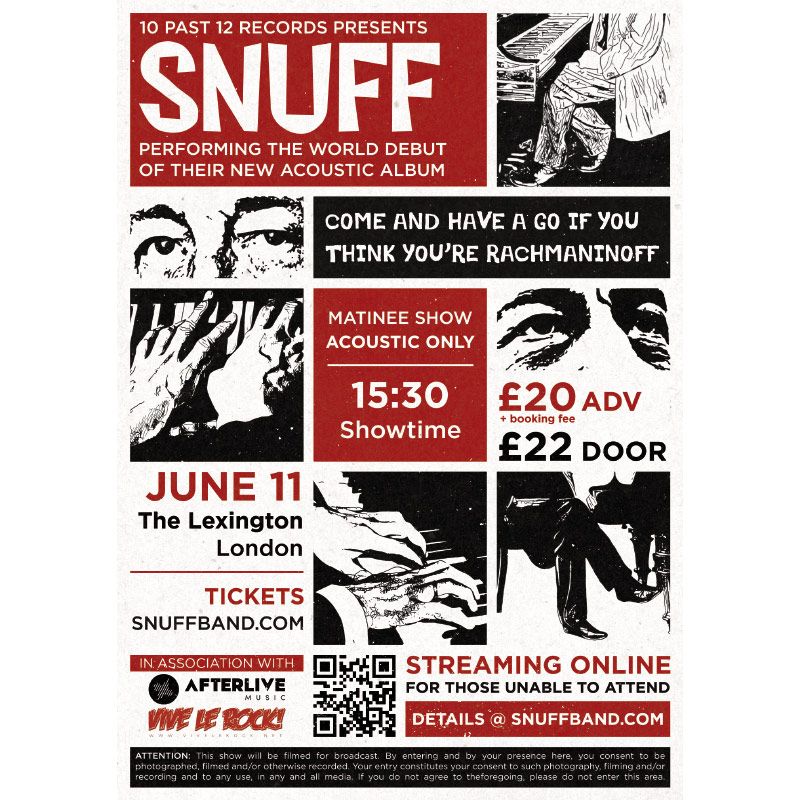 ACOUSTIC PERFORMANCE
11th June, live and online
Join Snuff on Sunday 11th June for their world premiere of the upcoming acoustic album release "Come And Have A Go If You Think You're Rachmaninoff" - an intimate acoustic performance live from The Lexington, London. This Live acoustic show will be a hybrid concert with a small attending audience, streamed live to a global audience and recorded.
Tickets for the show and livestream will be released from Monday 20th March. There are two ticket types available:
General Admission: Watch in person and attend the show at The Lexington, Islington, London. Limited 200 tickets.
Livestream & View-On-Demand Ticket: Watch the live broadcast of the performance online and stream it at your leisure for 7 days after the show, exclusively on our website. If you miss the livestream don't worry as VOD Tickets are available to purchase at any time to re-watch the show, until the content is taken offline on Sunday 19th June, 23:59 BST.
Here is one we made earlier: